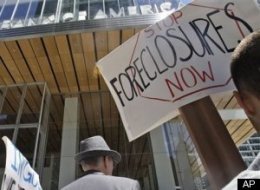 According to the
Modesto Bee
, the housing situation in the Valley is about to go from bad to worse:
Nearly 60 percent of Stanislaus County's homeowners with mortgages owe more than their property is worth, just-released statistics shows.

Underwater or upside-down loans are more than twice as prevalent in Stanislaus than nationwide.

The situation in San Joaquin County is particularly bad: 62.4 percent, or 80,505 residential properties there, had negative equity. An additional 4.1 percent, or 5,257 properties, had very little equity.
Foreclosures are predicted to continue to rise throughout the year. As the
Huffington Post
wrote:
More than 1 million American households are likely to lose their homes to foreclosure this year, as lenders work their way through a huge backlog of borrowers who have fallen behind on their loans.

Nearly 528,000 homes were taken over by lenders in the first six months of the year. If foreclosures continue at that rate, the yearly number would eclipse the more than 900,000 homes repossessed in 2009, RealtyTrac Inc., a foreclosure listing service, said Thursday.
The continued rise in foreclosures is brought on by mortgage payers who cannot pay their rent due to cuts in hours at work, or because of layoffs.
And, as we are seeing more and more working families being pushed out of their homes, we also come to see more and more people forced out on the street. At the same time, we see the city of Modesto pushing the homeless out through
gentrification
. A process which removes working and poor people from their neighborhoods, and clears the way for higher rents, business interests, and yuppies. The recent closure of Paper Boy Park shows this process to be very much in effect, where after business owners complained of the homeless population using the park, the
city council quickly shut the park down
.
While the
Modesto Bee
recently ran a front page story on violence against homeless people, they failed to mention the everyday harassment, violence, and threats that homeless people receive from the Modesto Police Department. Police are very upfront about their desire to "rid Modesto of the homeless," and are only too happy to help the city's elites remove them from certain areas.
This relationship between the local police only mirrors that of those foreclosed on, and the police that come and evict them. Not only do those that are one paycheck away from homelessness have more in common with those on the street than they probably realize, they both face attacks from the same enemies: the owners of wealth and power in this society and the police that protect them.
Many seniors are also facing eviction as well. In Riverbank, seniors are facing the axe for putting up a fence to keep in their dogs. According to the
Modesto Bee
:
But the Housing Authority says McAnally is breaking the rules by not getting written permission before putting up the fence and it must come down. The same is true for a smaller fence put up by neighbor Pat Butterfield for her dog, a Chihuahua-terrier mix named Gabby.

The women received letters dated Aug. 19 saying they had 30 days to restore their apartments to their original condition. McAnally is being asked to remove a small shed from her back yard, which she said she will do.

If the women don't comply, they could be sent a second letter giving them 30 more days to comply or the housing authority could cancel their leases and start the process of eviction.
Those in trailer a trailer park in Ceres,
who went on rent strike in 2007 against out of control rent increases
are still fighting their landlords in Chicago.
According to the
Modesto Bee
:
Nearly 80 current and former residents of a Ceres mobile home park want a Stanislaus County jury to award them millions of dollars for "slum-like conditions" at the park — from raw sewage bubbling up into bathtubs to exposed live electrical parts.

The homeowners are asking for $2 million for the loss in value, use and enjoyment of their mobile homes and overpayment in rent as well as punitive damages against their landlord, Colony Park Estates.

The two-month trial now under way in Stanislaus County Superior Court is expected to last through September.

Attorney Jim Allen, who represents the residents, said some people have walked away from their mobile homes or been forced into bankruptcy because they can't afford the $10,000 or more it costs to move.
It's easy to turn on the TV and hear about immigrants getting deported, homes being foreclosed on, people getting run out of a park, or seniors getting the boot. But in this day and age, it's only a matter of time before it happens to one of us. And, if it doesn't happen to us today, we all know someone that it is happening to. It's up to us to see past the lies that the rich and the police are trying to shove down are throats and stick up for each other. We're all we've got.