2010. The crisis broke even harder. Budget cuts ran deeper. More and more people lost their jobs, hours, had wages cut, or were furloughed. Many people lost (or almost lost) unemployment benefits. Poverty rates rose. Unemployment rose. Homelessness rose. Obama, a Nobel Peace prize winner, continued the wars in Pakistan, Iraq, and Afghanistan, as more and more US troops were left dead and thousands more innocent civilians were left murdered, without homes, or horribly maimed.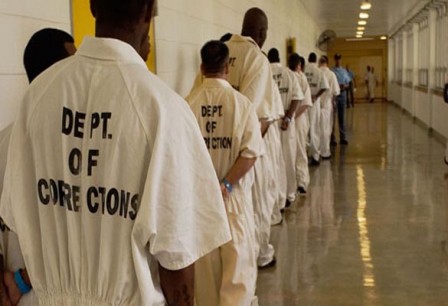 Together, across racial divisions,
towards freedom.
But there were signs of resistance. Foreclosed homes were occupied and evictions were halted. Students continued to resist cuts at their schools through strikes, walkouts, and occupations. In Oakland, people took to the streets and fought the police in some of the most fierce rioting in the United States in years, attacking police cars and looting mostly banks and corporate businesses.
Prisoners in Georgia launched the longest prison strike in history
, using cell phones bought from guards to coordinate across race and religious lines for better pay and treatment. Also, port workers on the east cost launched a round of wildcat strikes in solidarity with sacked workers. All of these things point towards a new form of resistance. Outside of the political process; not waiting for politicians and Leftist career activists to change things in our lives and in our communities. Taking the power into our own hands and fighting together.
Modesto Anarcho in part of that push. We're only a small group of friends engaging and participating in class struggle in our area, which many have done for years. We don't pretend to be leaders in the struggle against capitalism, only participants with other working class people within it. Listed below is a re-cap of some of the biggest stories of last year on this blog. This site has been getting more and more hits, more feedback, and more engagement. So, don't expect us to let up anytime soon.
Ballin' and occupyin'!
In January, we participated in a one day occupation of a foreclosed house which was successful in halting the eviction. The house belonged to the Central Valley Miwok Tribe (CVMT.) We felt that the occupation was important because it brought together a diverse group of people for the purpose of stopping an eviction, and was successful.
Read more about the occupation here
.
In February and March, we began
producing and handing out literature
around the assaults on education in California.
We also participated in various attempts at organizing on the Modesto Junior College campus, but due to harassment from campus police and the administration, were largely unsuccessful
. However, we did document and publicize the walkouts by students in the Modesto City Schools District in a
video and various articles
.
'Run Robert, run!'
Also, in April we ran a humorous story of Robert Stanford
being run out of Earth Day at Graceada Park for being a snitch
. As of late, Robert Stanford has praised MA's work, and even declared that we 'deserve a medal' for standing up to the police. This. Is. Hilarious. Simply put, Robert helped the Stanislaus County Sheriff's Department launch a sting operation against
Modesto Needle Exchange
.
Robert can be seen in videos with Adam Christianson speaking before the Board of Supervisors
stating that the parks needed to be cleared of the 'junkies and the anarchists.' Stanford's recent tirades against the police are laughable. He works with the police - he might as well be (and might be) a cop.
BBQ at Paperboy.
During the summer we covered the protests against
Sarah Palin
and the grand expenses that the police and university went to in order to block protests (and keeping an eye on us!).
We also gave light to the ongoing situation with Paperboy Park
, a public park that was closed down thanks to a union of business, developer, and political interests. Throughout the summer Modesto Anarcho also held a series of BBQ's in public parks, including Paperboy against the closure.
We also held a public graffiti/street art festival, featuring free food and live music
.
Rally for Rita in Westside.
In August, we began covering the unfolding murders of
James Rivera
and others within the Central Valley. In September, the police and Sheriffs in Modesto killed twice, killing
Francisco Moran
and
Rita Elias
.
Covering both the murders and resistance
from family and community members got this site a lot of traffic and we hope it was helpful in the struggle locally against police terror. Also in September, we covered resistance to
Christian bigots at the Modesto PRIDE festival for the second year in a row
.
In the winter we continued to cover the ongoing resistance to police violence,
including the disruption of a police accredation meeting
. We also released a series of articles about the police brutality scandal in the wake of
released emails from within the police department
, as well as the
connection between business interests and the gentrification of downtown Modesto
.
This is just a wrap up. Feel free to check out the blog and everything in it. Check out the different pages at the top of the site and view videos, download flyers, and read the magazine.
We look forward to the struggle ahead. See you in the streets.