Due to the constraints of modern life and also the ongoing situation in Oakland, this blog has been on hiatus for a couple weeks, but we're back! Below are some short stories and briefs regarding ongoing struggles in the Central Valley.
Buildings Occupied At UC Davis
Banner outside of occupied building.
At
UC Davis
,
students occupied an unused building
on the campus for several weeks in the wake of a police attack on student occupy protesters and in solidarity with occupations happening in SF, Oakland, and with the ongoing revolution in Egypt. This occupation comes on the heels of the
occupation of Dutton Hall
, which lasted several days, and came only 11 days after the famous
'pepper spray' attack
. On February 2nd, UC Davis students also
marched on the local police station in solidarity
with
protesters in Oakland
who were brutalized by police while they attempt to occupy a vacant building to create a community center and stronghold for the occupy movement. It's great to see our comrades in Davis raising the bar and taking buildings and property from the university towards their own uses. Hopefully those outside of the university, workers, and other students follow suit.
From a communique
:
As capital spirals further into crisis, we are constantly confronted with the watchword of austerity. We are meant to imagine a vast, empty vault where our sad but inevitable futures lie. But we are not so naïve. Just as Wall Street functions on perpetually revolving credit markets where cash is merely a blip, so also does our state government. High tuition increases have been made necessary not by shrinking savings, but by a perpetually expanding bond market, organized by the UC Regents, enforced through increasing tuition and growing student loan debt. Growth has become a caricature of itself, as the future is sold on baseless expanding credit from capitalist to capitalist. Our future is broken. We are the crisis. Our occupations are the expressions of that crisis.
Evictions and Attacks Against Homeless Encampments Continue
As the state cracked down on occupy encampments, as did Central Valley police departments against homeless tent city. In Stockton, a
homeless encampment in 'Mormon Slough
,' was raided and people's makeshift homes were destroyed despite the protests of homeless people and supporters from the community.
In Sacramento, police conducted a similar raid,
forcing homeless people out of a camp with threats of arrest
. This raid mirrors a previous raid of a large
homeless encampment that drew national attention in 2009
that was likewise raided and dispersed by the police. Also in
Fresno, homeless people's camps
were again targeted by the city and local police, as those sleeping on the streets, under overpasses, or in tent cities had their property taken and destroyed and their make-shift homes torn down.
Hands off Gabriel Duenez!
Manteca Police, responsible for the shooting death of Ernest Duenez in 2011, have issued a
restraining order against Gabriel Duenez
towards officers
John Moody and Armen Avakian
. Gabriel Duenez is part of the Justice for Ernest group, which includes family, friends, and community members and has been involved in ongoing organizing and protesting against the Manteca Police Department over the shooting of Ernest last summer. The San Joaquin County DA has still yet to release to the public the video of the shooting, but supporters of Ernest maintain that he was unarmed when he was stopped by police, who opened fire on him as he exited his vehicle, tripping on his seat belt in the process. The Justice for Ernest group is an extremely well organized and tight group of loved ones and friends and this attack on Gabe is nothing more than an attempt to break the movement. It is also a sign that police are feeling the heat and are growing wearing on the constant community organizing and action taking place in Manteca. To this we can only say to those involved in Justice for Ernest - keep it up! Put the bacon on sizzle!
More info here
.
CHP Loses Money, but Promotes Killer CHP Officer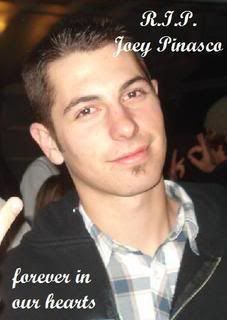 A Sacramento jury awarded the family of
Joey Pinasco $2 million dollars
after his slaying by CHP in Escalon in 2008.
Joey was shot by CHP officers who claimed that Joey raced toward them and were then forced to fire on Joey's truck to stop him. However, after many months of Joey's family demanding that
the truck be returned to them, they found that in fact many of the bullets were located on Joey's driver's door.
Joey wasn't shot head on, he was murdered as his car was parked
, which
witnesses to the shooting
corroborate. However, according to the Modesto Bee:
"...

the jury did not find California Highway Patrol liable for civil rights violations.

Coffman and Walling remain employed with the department. Walling has been promoted to sergeant."
While we are overjoyed for the Pinasco family that they feel they have been vindicated in the courts and also the police have been shown to be (at least partially) at fault, it is telling that still the CHP refuses to fire the police responsible for the killing and has even promoted one of the officers to sergeant. Trials, even ones that almost always never find the police to be at fault, still do nothing to curb police violence or even simply remove bad cops from the force. Being that the systems of policing and imprisonment feed off of brutality and repression, it is no surprise that those that act the most brutally are awarded and promoted.
PJ Gets Retrial
Our friend
Paul Lopez
, the young Delhi man who has been framed by local police for being the infamous graffiti artist "MUSKET," has been granted a retrial. We wish him an his family all the best!